Sale!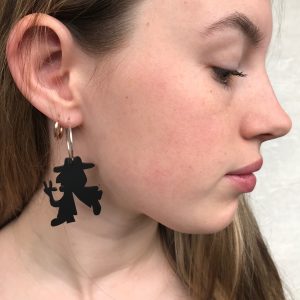 Product Description
YOLO Man Limited Edition Jewellery by Pamela Irving
YOLO is a social media term meaning You Only Live Once.
Irving developed her YOLO Man character while constructing huge mosaic figures for Melbourne's Luna Park. YOLO Man is a happy character embracing life. YOLO Man is essentially a head with legs and sometimes an arm or two.
He now appears as a range of limited edition, acrylic jewellery – as necklaces, earrings and brooches. In this range of 5 designs, and a range of colours, he wears a homburg hat as a nod to famous Australian poet 'Banjo' Paterson and Pamela's recent series "YOLO Man Waltzes Matilda". One Figure has one bare leg and one wearing pants, a reference to Banjo Paterson, who always had one foot in the city and one in the outback. These pieces are quirky and collectable and a part of Pamela's search for Australian Identity.
The earrings have sterling silver fixings.
All come wrapped in black tissue and small cardboard pocket box.
To find out more about Pamela Irving's work you can view her
on social media #pamelairvingart www.facebook.com.\au/pamelairvingart
There are many colours available. Each colour has 5 designs.
Postage is additional or you may visit the gallery at 68 Patterson Rd, Bentleigh
Call Pamela on 0402 946 940 for opening times.
A range of my YOLO Man Jewellery is now also avaliable at CRAFT ACT. London Circuit, Canberra.